February 2008
Swedish style party (20080201)



A Swedish friends birthday party took place today at a "all you can eat for four hours" place. I ate too much (but I am sure the blue ice cream is full of natural and nutritious stuff). I spotted a guy unrelated to our party that still had Swedish written on his shirt. When he left is table I pounced and asked if I could take a picture (much to the embarrassment of everyone who sat at my table). He told me these shirts can be bought in the house next doors. Which turned out to be true. I ended up sitting at the "kids table". Possibly because I was the fourth youngest person at the party or possibly because the other people assumed I would not have anything interesting to contribute to their discussions of breast feeding.
Signs of Sweden (20080203)


The Swedish writer Astrid Lindgren is not that famous in Japan, but many people have heard of "Lotta chan" (Lotta på Bråkmakargatan) and here is a postcard with a picture from a movie based on that book.
Sushi (20080206)


I wanted to play badminton on the regular Wednesday schedule today, but it turned out to be the Chinese New Year, so no one else was around. I decided to try to find someone else to bother. First try was a Japanese girl who claimed to be eating right now and thus not interested in going eating with me. She did send me off to another girl a few doors down who is in charge of performances for a coming house festival of their dorm. I asked if she would mind if I did some card tricks at the festival and she responded that she would beat me with a stick unless I reprised my "take off my pants" card trick. So now I am booked for one more show... Then a friend from Taiwan came home from work and we discussed going for sushi. Then the Japanese girl who was eating chimed in that if we went for sushi she was coming along. A good tip is to go for sushi with at least two other people. Then they can share all the disgusting stuff they undoubtedly want to eat, and you can eat whatever delicious things they despise. Here is a "hamburg sushi", which for some reason the father of the Japanese girl eats every time he goes for sushi. Considered weird by most Japanese though.
The Lab (20080207)



We had a photo session today to take a photo of the all the people in the lab. Mainly robots, but still. Robots are a lot of fun, so I am sure many new students will enter the lab after this.
Sapporo Snow Festival (20080208)















It is the big event of the year again, the Sapporo Snow Festival. That means you will have to account 5 more minutes to go to and from the university, because you will have to wade through the sea of foreigners milling around randomly right in your way. I took 336 photos of the event, about one per sculpture.
Smocars (20080208)


Smoking is not allowed in the park when the festival is ongoing. But they have "smocars", buses where you can go inside and have a smoke. My guess is you don't even have to light up your own cigarette to get your daily dose of nicotine.
Not a hug (20080208)


After reading a Dilbert comic years ago, I have a strong urge to go up and hug people who stand around like this. Experience shows that this is rarely appreciated. Especially not by any company you may be in at the time...
When you get cold feet (20080208)


Since the Odori Park where the snow festival is is full of snow that gets in your shoes, many people get cold feet. It does not help that most people are from southern Japan or Taiwan, and thus not used to these not very cold temperatures. But there are houses you can go inside and put your feet in very hot water. Available in many places in Japan, also in the summers.
Official spelling (20080208)


Every year the official maps of the Snow Festival are changed, since the sculptures are new every year. But they never change the spelling of "scalpture".
Winter clothes (20080208)



Going around in a rolled up school skirt or a wedding dress is perhaps not the norm, but not that uncommon either. Looks cold, though.
Movies (20080208)


As commercial for a new animated Japanese feature, they built a movie screen of snow (and the main characters' faces, scooters etc.)
Maid for food (20080208)














When I was in Kyoto last time, I met a French guy and had dinner with him and a Dominican colleague. My Dominican colleague found a dish with aubergine and two different colored miso paste dish to be delicious there. We had ordered it together and for some reason she got it into her head that I ate more than my share (totally baseless accusations, of course). I suggested we just order some more, but it turned out we had just eaten the last aubergine in the house. She was angry with me for quite some time after that, and has evidently tried to find this kind of food in Sapporo without success for some time. I have had similar food in Sapporo and told her about it. So when the French guy came up from Kyoto to see the snow festival, we went the three of us to a place where I had had aubergine with miso paste before. Most likely, it is available in pretty much any Japanese style izakaya (bar/restaurant) in the country, it is claimed to be "completely standard food" by my Japanese friends, but my Dominican friend was sure that was not true so we had to go to this place where I had had some. And if they no longer had it on the menu (interpreted as "Jonas lied about this restaurant serving this food") I would be in trouble. The restaurant is a "Maid Izakaya", which means all the waitresses are below 25 years of age and dressed in the Japanese interpretation of French maid outfits. This includes frilly dresses, white aprons, cat ears on the head, and looking cute in general. They must also live up to the image Japanese people have of French maids with regards to behaviour, which means being very subservient/servile and super polite to their "master" (i.e. us). Most female friends I have refuse to go to such restaurants, though they are generally completely normal except for the uniforms. Anyway, they had the food she wanted, and I made sure to eat way less than my share this time. So everything was fine. Except that the desserts did seem to take an inordinate amount of time to arrive, so she called over a tiny waitress and burst out "Where is my dessert!" in a very childlike voice and with very "spoiled child" body language and Japanese nuances. This led to a very entertaining scene between the maid asking forgiveness for the inexcusable slowness and my friend whining about it. I and the French guy were wavering between hiding under the table in embarrassment and rolling on the floor laughing. At least we got our desserts in the end. Desserts, and not being allowed to photograph the staff unless paying a lot of money, are the main feature of this type of place, so we ordered "Star colored crepes", "Cherry special ice cream adventure" (the place is named "Sakura kko", the words for cherry and child/young girl), and "Love berry waffles".
Susukino ice festival (20080208)



At the same time as the snow festival there is also an ice sculpture festival in Susukino (the entertainment/red light district). This, however, is almost exactly the same every year, so it is less interesting to visit.
Karaoke (20080208)




I had to go to karaoke with the other two foreigners too, afterwards. I can't sing, so I prefer karaoke with lots of people (so I can avoid singing with less problems).
Why Sweden? (20080209)


In the local anything for 100 yen shop, there are flags to decorate stuff with. You get Japan, America, Italy, Great Britain, Korea, and Sweden. The other countries I can see the reason for, but why Sweden?
More exotic food (20080209)









My friend who is so good at cooking that she does not want to eat anything she could just as well make herself when going out to eat once again deigned to dine with me. We had alligator (tastes, looks, and feels like chicken), ostrich (tastes, looks, and feels like beef/pork), catfish (tastes, looks, and feels like fish), and green sea turtle (tastes, looks, and feels like chicken, but is almost extinct). We also ordered camel, but they told us that the last camel meat had already been eaten that day. The turtle dish was the best.
Ingenious bicycles (20080209)


So as not to get cold hands when biking in snow storms, this bicycle comes with some kind of clothes attached to the handle.
Baseball food (20080209)



Since my friend only wanted to go to karaoke and I only wanted to go to anything except karaoke, we compromised on going to a cafe run by some famous foreigner. I think he is American, possibly Canadian or Australian. Famous for something to do with baseball, I guess based on the interior decoration and the never ending parade of baseball movies shown on big screen TVs all over the place.
Chinese food (20080210)


I had a weird food experience today with two other crazy Swedes and one Canadian who also speaks Swedish quite fluently. All kinds of strange things were going on. Best was perhaps when the Swedish lady of the company managed to pour rice and very sticky chili sauce down her blouse. What is the best way to try to mop it up? Inserting a hand from below, from above, removing clothes, going to the bathroom? Inserting a hand and some tissues looks a lot like "hello, I am just fondling my breasts a bit here", which is not common in Japan. Going to the bathroom sounds good, but is complicated by passing a spot perfect for playing if you are a kid, and she has a daughters, so she would never have been able to return to the restaurant again. Other strange things happened too, such as "do you want to share food with us or not?" "no answer..." "OK, we will order too much food anyway, three and a half dishes for two people, so if you want you can have some of ours when you make up your mind", "OK, I will just order these five dishes for myself then." ... And the kid in the company ate only white rice, on which she poured soy sauce (which no Japanese would ever consider doing!).
Fondue (20080210)


Here is a fondue with melted chocolate to dip bananas and strawberries in. Ordered mainly because it came with marshmallows, that the orderee wanted to eat without chocolate...
Family outing (20080211)



Today I was dragged along to Takino Suzuran Koen, which is a family oriented playground. You can ride air filled tubes down the snowy slopes, ride rubber boats down the same slopes, try skiing for children, walk around in show shoes, climb in some kind of insect like lair, and do many other things too (mega size flipper built out of snow, for example). With that Canadian guy hanging around, I may possible pass for "not father of this kid", but he tended to wander away and I tended to tow the kid up the ski slope, so perhaps not.
It's not easy being a tourist (20080211)




Some tourists from some warmer Asian country, possibly Thailand, were trying to ski. One of them had very little success and could not even stand on her skis. Not even with the help of two friends. She gave up after lying in the snow for 10 minutes or so.
Stonehenge, Easter Island, Buddha, Japan... (20080211)




Near the playground, there is a graveyard. For some reason, the graves are totally hidden but instead you can see a life size copy of Stonehenge, many tens of life size Easter Island head statues, a huge Buddha and other completely weird things. In the middle of nowhere.
Bicycle parking in the winter (20080212)

The snow removal is so-so, so parking your bicycle sometimes requires some effort.
Early duty chocolate (20080212)


In Japan women are required to give "giri choko" (duty + chocolate) to male co-workers on Valentine's day. This was put up a few days in advance in our lab, but the chocolate was gone before I had time to eat any. Too high boy to girl ratio in our lab.
Meagre offerings (20080214)





On Valentine, people who like you will give you chocolate. Not only do women have to give their colleagues "duty chocolate", they also give chocolate to men they like. If it is "I love you chocolate" and he returns chocolate on "White day" (one month after Valentine) the wedding is more or less decided (well, not really, but still...). There is also "I like you as a friend chocolate", which is hard to distinguish from "I love you chocolate". Most likely, there are many other types of chocolate too. One friend has bought the chocolate companies new drive for "friend chocolate" that you give to female friends too. Anyway, this is what I managed to get... A super cheap chocolate from the student cafeteria given to anyone eating there. One small piece from a cheap chocolate bar (as thanks for proof reading 100 pages of English). The foot of a chocolate elf (the rest of the elf she ate herself, since she "likes this chocolate very much"). Cheap chocolate from the type available in the 100 yen for a big bag shop, given to me by a bartender who took pity on me for not receiving any chocolate. At least White day will be a cheap affair this year (according to a Polish friend of mine, you are supposed to return tenfold what you got, a good investment for women, but still only 200 yen for me). I guess the message from my acquaintances is a loud and clear "we don't like you"...
What other people get (20080214)


My acquaintances did however get chocolate themselves, even the girls. And they found it funny that they got way more and way more expensive chocolate than I did, and took every chance to point that out/remind me. Here is one example of what one got at work.
Almost (20080214)


I have been looking for playing cards that are see through from the top but look normal from the other side. These are just see through from both sides, but kind of cool anyway. Hard to use though, but sold in the 100 yen shop so I am satisfied.
Valentine magic (20080215)


I saw a funny magic trick on Youtube that would be perfect for Valentine, and is also easy to perform. Unfortunately, there was a huge lack of interest in seeing this performed by me on Valentine Day (one person had to endure it anyway, but that was all). Today I managed to find two drunk guys in a bar that thought the trick was excellent though. So all that nice magic chocolate was eaten by two drunk men and their friend the male bartender. It was a huge success in general popularity but not among the target audience I guess.
Strange junk mail (20080216)


Today I found this flier in my mail box. It says "It is cold, so perhaps I shall make my breasts larger...". I am not entirely accustomed to the Japanese way of reasoning yet, I guess. It is explained in smaller print that: "since it is cold, no one really wants to go outside. And at home there is nothing to do, and who wants to work hard (at whatever)? Thus taking aim for summer, let's build a new body in this warm and pleasant salon." It is a flier from "Bust up salon Enchanter". The treatment seems to be some form of freeze therapy for your breasts and according to the photos on the other side your breast size increases a lot after ten treatments. And it says you can select your size and shape freely too. And using this ticket you pay only 2008 yen the first time instead of the normal 31,500 yen. I think I will not be going anyway, I am rather fine with my breasts the way they are now, I think. My brother, who is a funny guy, suggested I give it to some girl I know and say something along the lines of "I assume you want to use this?". It is I guess a funny idea, but I will have to select one who is too weak to be able to kill me outright, I guess...
Strange food or strange English? (20080216)



I like many of the things on this menu, mainly linguistically, but still. How about "Fish and Tips"? Might go well with some "White wine steaming of shellfish" perhaps? "Harf harf" pizza is funny too, while "Goblin style roast of the chicken" and "Spicy grass filled fresh fish" are somewhat unclear. "A truth kite and a kiss of Jeh of Kita Akari" qualifies as "very unclear". "Native chicken and tuna source of asparagus" seems mostly broken. The food was cheap but like the English not very good.
Good bye party 1 (20080217)




A Taiwanese friend is moving back to Taiwan so there was a farewell party. First sumo wrestler stew (perhaps she needs to fatten up for her stay in Taiwan?) and then the "best ice cream parfait place in Sapporo", according to some survey. The first place was fairly standard, except they served at least seven different dishes of whale to anyone who would want one. The second place was bizarre. Taking pictures of anything not on your own table was prohibited, probably because the interior was not very nice. The home made ice cream was good, but the smell of gasoline from the cans of gasoline standing around was a bit of a turn-off. It was also unbelievably narrow, which is saying something in Japan.
My winter view (20080220)


The view from my balcony now.
Volvo (20080220)


Volvo, famous even in Taiwan, I am told. Here present in Sapporo.
White lover, the cakes (20080220)










The same Taiwanese friend was still planning on moving back to Taiwan, and before doing so wanted to try out the Cake-Viking (Japanese for "all you can eat in 90 minutes, in our cake shop"). So since no one else could take a Wednesday off from work, I went along and we stuffed ourselves with cakes for 90 minutes in the cake shop of the White lover present factory. Apparently, the best all you can eat cake place my friend had visited so far.
White lover, the English (20080220)



In Japan, instead of eating like folk, they eat with folk, apparently (or they cannot distinguish "r" from "l"). Also, in the same cake restaurant: "Please let us know when you would like to be cold drink served". Outside, someone let's us know that "I cannot go through it for snow falling from the roof".
White lover, the other guests (20080220)



In the lobby, I met Beethoven and Lincoln.
Japanese large rooms (20080220)


The lobby had a large stairway, which is rather rare in Japan.
Japanese small (standard size) rooms (20080220)


These are however even smaller than normal. Check for instance the size of the small Japanese person trying to enter the red painted house.
White lover, the tour (20080220)









We also took a tour of the factory making the famous souvenir cake "White lover". They had some problems with someone cheating with the "you had better eat this before this date"-markings, and no one would buy this anymore. Now they company is back under some new leadership or something, so the factory is running again. The tour showed Columbus in the first room (because he invented chocolate), showed a live video of me in the middle of the factory, had some bizarre attractions like a screaming head made of stone (warning sign for people with weak hearts), very old style ice skates etc.
White lover, the cats (20080220)



For some reason, if you take the tour you get a stuffed cat. And if you pull its tail, it starts shaking its ass... And the slogan of the whole place seems to be "White chocolate; the language of cats". Go figure.
I am (apparently) normal (20080221)


There is a monthly interview series in the Hokkaido newspaper that interviews foreigners to show how completely like everyone else foreigners are. There are not so many foreigners in Japan, so people have some strange conceptions about foreigners sometimes. My colleague from an exotic country was interviewed for the March edition and was then asked if she knew any other normal foreigners that speak a little Japanese. She suggested me, so apparently I am normal. The interviewer was so excited about meeting someone from Scandinavia that she brought along a lot of magazines about Scandinavian design etc. and asked if these photos were actually true to what Scandinavian things look like. She did however forget to bring her camera from the office, so I had to take a picture myself and send it to her later. This is the one. Me, in a t-shirt outside in the snow, with embroidery (that I made myself) that says "Still Single". I said that most people do consider me to be completely nuts around here, but after the interview she said that she was sure they were wrong. Then we went outside and I set off on my bicycle, so she asked a few questions about that. ("Don't you fall?", "Only five times per winter, and the snow is soft"), so it took her only 3 minutes to change her mind and say "Indeed, you seem to be insane".
Pizza party (20080222)




For some reason, a lot of beer has entered the refrigerator of our lab and refused to leave. To solve this, a lot of pizzas were ordered today and everyone had to participate in the "let's empty the refrigerator"-party. Japanese pizzas are pretty strange. I had to leave early to go meat my guarantor for my apartment, which was pretty fun. I did miss the best part of our lab's pizza party I am told, though.
Raw things to eat (20080223)





Japanese cooking seems to be a game of how to avoid doing any actual cooking. Here is a ship shaped plate of raw all kinds of things. The ever present fish sperm, various types of actual fish meat, clams, squids, shrimps, stuff I probably don't want to know what they are etc. After eating most of these raw things, you could actually ask the staff to prepare the rest as actual food and then eat that too.
Present (20080223)


I got a present today, from a friend who bought an oven.
Weather (20080224)

We got about a meter of snow during the night and day, and no one seemed to be around to remove it. Which made by bicycle trip a real pain.
House Festival (20080224)











It was the house festival of the place I lived the first time around in Sapporo. Cultural presentations from strange countries, food from other countries, people in funny clothes. Free sushi. I was there for the third time. First time around I answered questions about Sweden in front of some posters with Swedish pictures (and told bold lies about Finland in front of the Finnish poster when they were not there to protect it) and had a violent presentation of medieval fencing traditions from Europe. Second time around I mostly sat in a back room having make-up put on, and then walked around in a French maid costume, much to the delight of all women in the house. This time around, I just had a magic show, so I could focus on the important task of eating free food before it was eaten by others. The girl clothing thing was my most popular event by far, thus far in my life I think.
Strange Japanese customs (20080224)


Here we have a bunch of Japanese people pouring all kinds of alcohol into a big bucket that they are then going to throw away. This is shocking to many Swedes, but in Japan the thinking is "The party ends at 8, it is now eight, so we have to throw away anything not consumed yet".
Never ending parties (20080224)





After eating pizza, and then going for a dinner party on Friday, then having the huge boat of raw stuff on Saturday, then having four servings of free exotic food today, followed by a free sushi party for organizers (and magicians), I was also invited to yet another farewell party for my Taiwanese friend. Who wanted to eat raw fish sperm sushi, it seemed.
The Magic Show (20080224)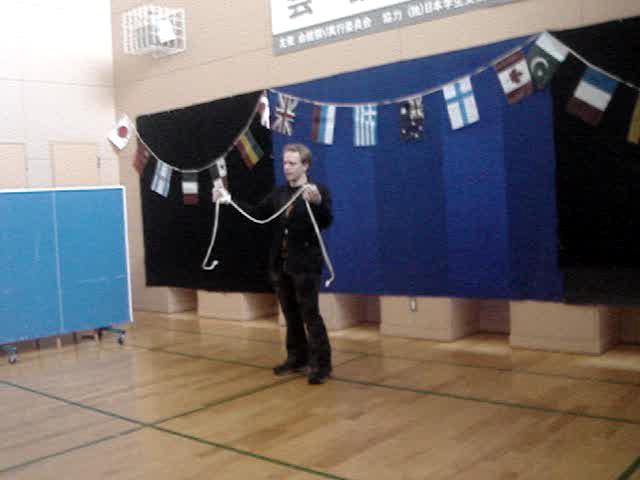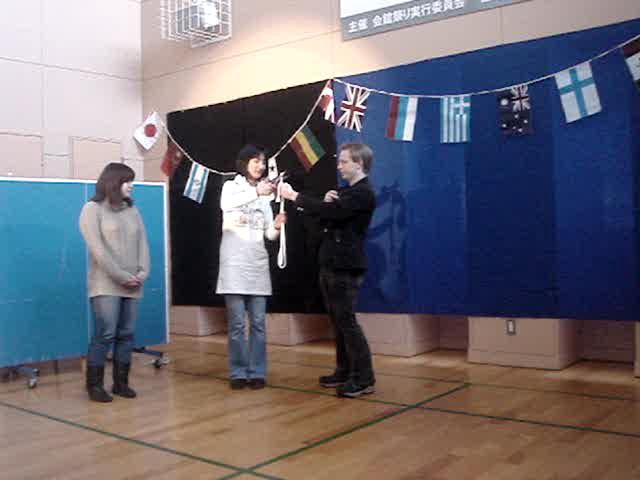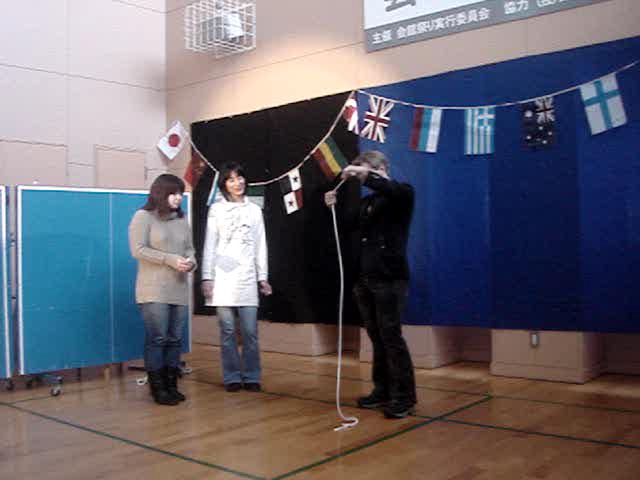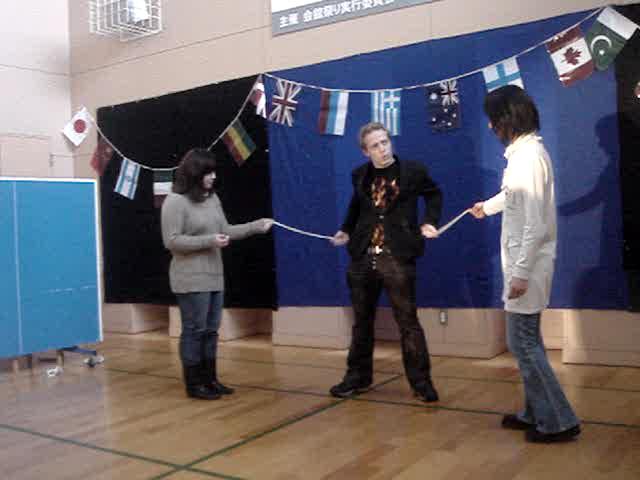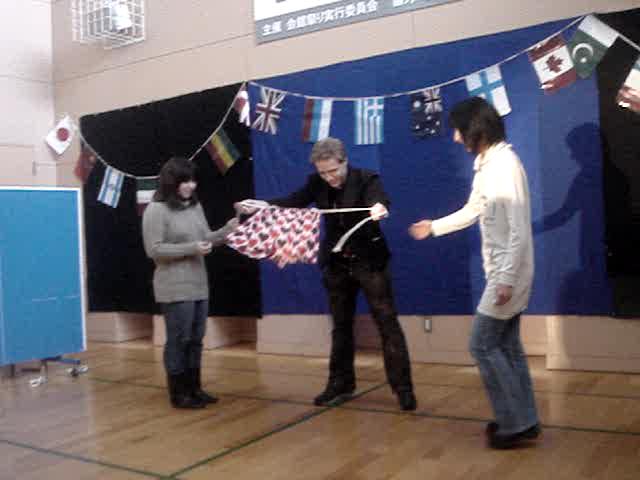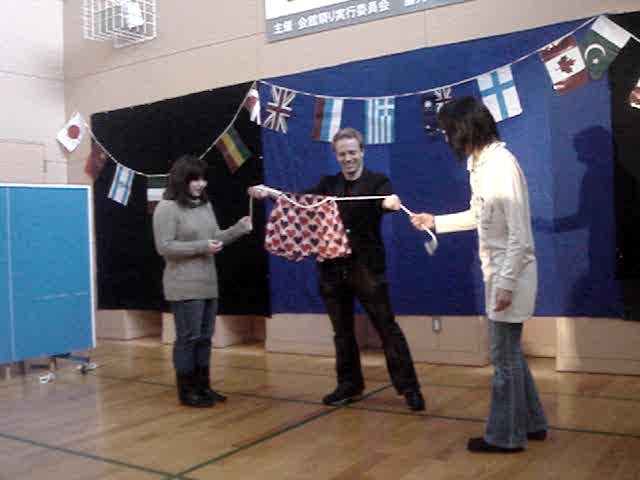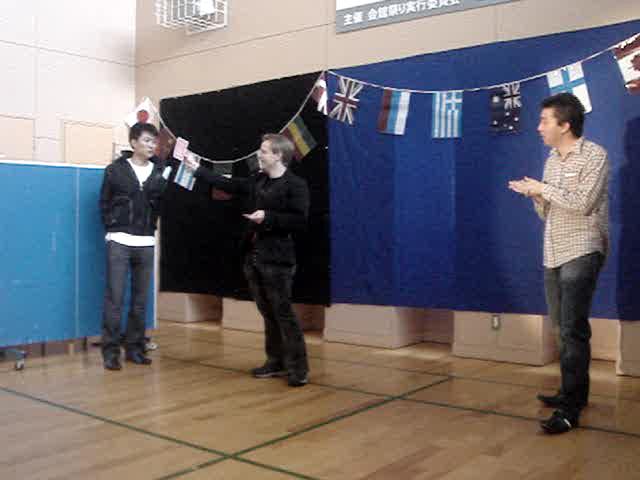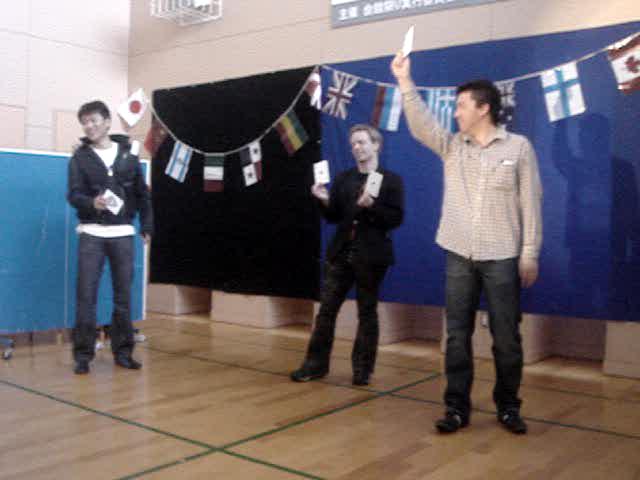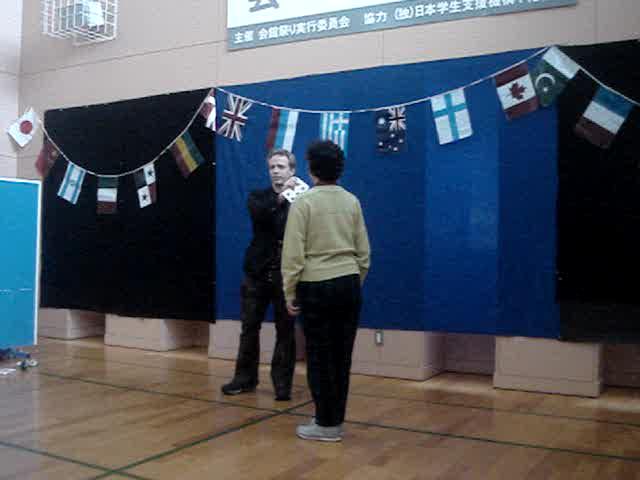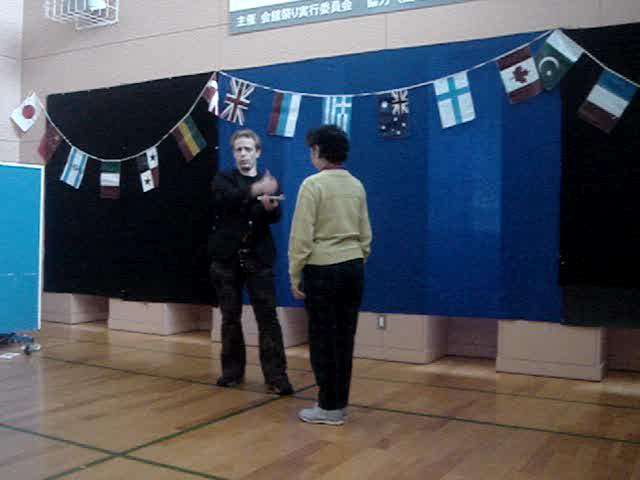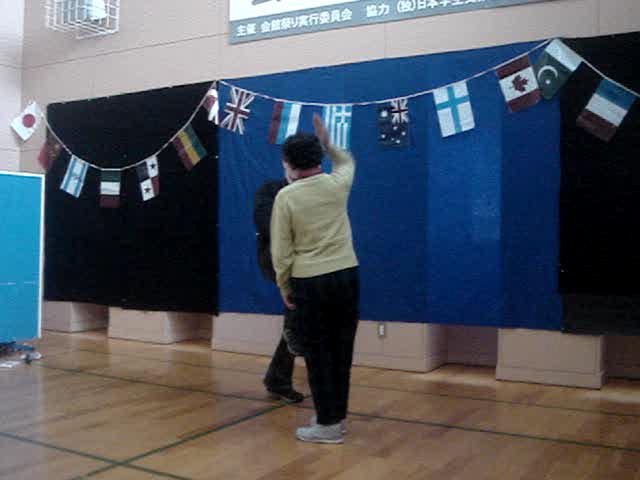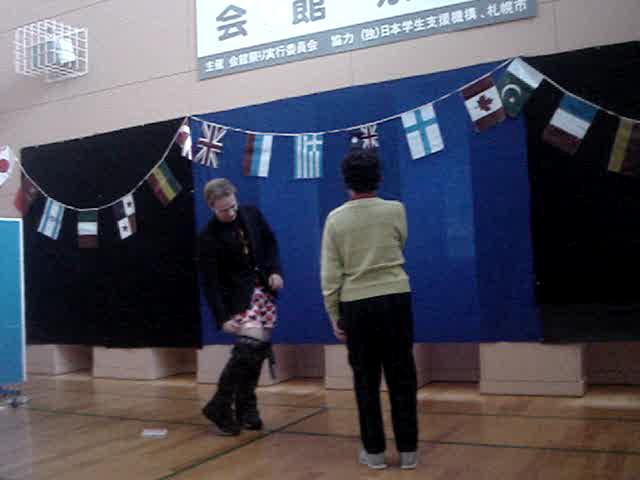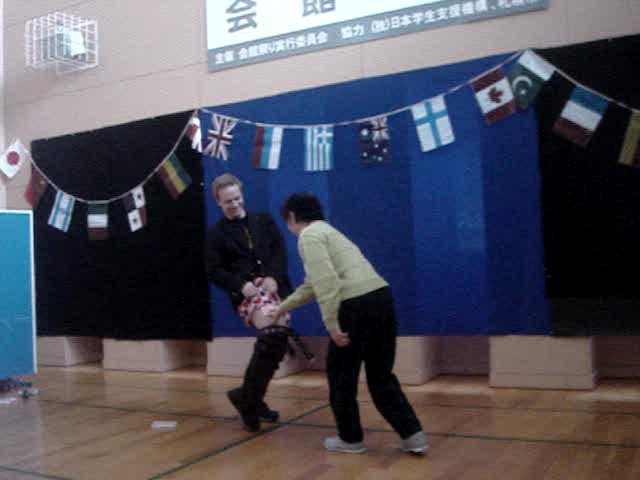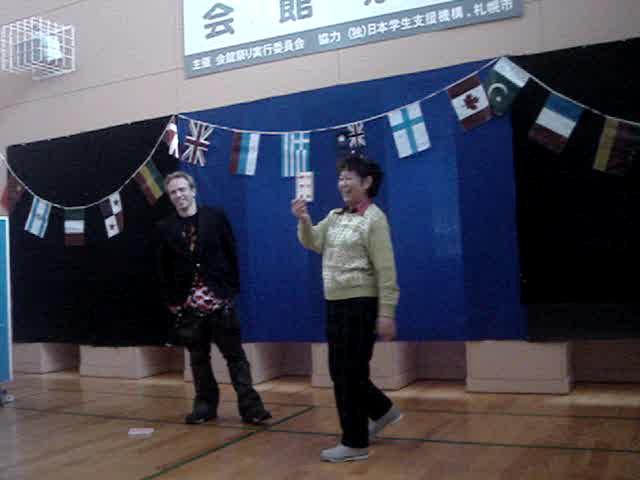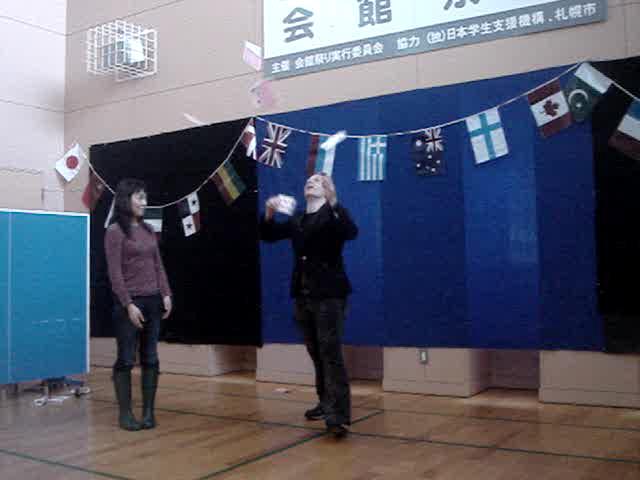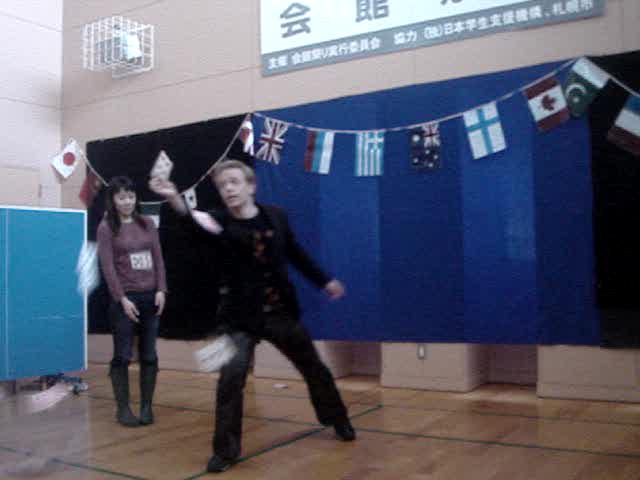 My magic show was fairly successful, though at least two major mistakes occurred. It started with a short interview, "How come you came to Japan?", "It was mainly by chance.", "And what are you doing here?", "Teaching a computer how to tell jokes.", "Of course.". I started out with a fairly standard cutting of a rope into two parts that then refused to become the same length, so it had to be tied back together into one long rope again. That part did not go so well. The I put the rope behind my back and pulled it through my body, which also caught my specially for this event procured pink pants. Showing your underwear seems to be a recipe for success, and did not fail this time either. Then followed a fairly unexciting card trick, just to establish myself as competent with cards. A Chinese friend who really really wanted to be a volunteer but was kind of busy elsewhere came running in and volunteered, though, which was fun for me. No one else wanted to volunteer during the whole performance, despite (or perhaps because) me telling them "nothing weird will happen", so I had to pull people up with force. The next trick was done with a very serious old lady who even bowed to me. Unfortunately, instead of going to the bottom of the pack after a karate chop, the card went too far and ended up in my pants. So I had to take off my pants, which was a huge success but had the old lady worried for awhile. Despite promising not to take my clothes off again, no one volunteered after that either. I did one more card trick where I caught a selected card that had been returned to the middle of the deck from the middle of a cloud of cards thrown into the air. Then I had to quit, so I had time enough to clean up the stage from all the cards now being spread out everywhere.
The violent robots of Japan (20080226)


Robots in our lab, posing.
Travelling with Japanese company, no real point (20080228)


Japanese people travel a lot. But travelling with them is pointless, because they just sleep. You might as well go alone.
Snowboarding (20080228)




After my company actually woke up, we went snowboarding (me) and skiing (her). It was bastardly cold, with a snowstorm going on, but it was a lot of fun and the quality of the snow was excellent. But it was cold enough that I for the first time ever in Japan wore something on my head (not counting the cat ears from last years house festival).
Women and robots (20080229)


In Japan they have magazines where cute models are hugging robots. How come we don't have that in Sweden!?
From Tokyo (20080229)


A souvenir cake from Tokyo.
Crushed plans (20080229)




Today was supposed to be my first ever participation in a "go-kon", which is Japanese English for something like a blind date party of about four men and for women. It was cancelled because no one could apparently find even one woman interested in coming to a party where I would attend. Too bad, since I had even asked around for advice on how to behave ("No, whatever you do, taking off your pants to, even to reveal a selected card, is not OK!", and "Mainly, speaking is better than being quiet, but in your case you should probably under no circumstances ever open your mouth (or everyone will understand how crazy you are)" etc.). Instead, I set out to try out the nearby kebab shops that I have been curious about. After walking a very very long tour, I could conclude that all but one were closed today. The open one was cool, though, with seats for a total of 3 people.